Building a Thriving Mediation Practice: Effective Marketing and Networking Tips for Divorce Mediators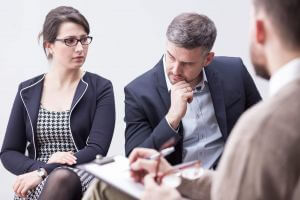 Divorce is an unfortunate reality for many couples, but the manner in which it is approached can greatly impact the emotional and financial outcomes for both parties. In recent years, there has been a growing societal trend towards divorces that are less contentious and less costly. This shift in attitude has created a significant opportunity for divorce mediators to build a thriving practice, helping couples separate amicably and efficiently.
Marketing Strategies for Divorce Mediators
To build a successful divorce mediation practice, it is essential to develop and implement effective marketing strategies that will help you reach potential clients and showcase your expertise in the field. Here are some key strategies that can help you accomplish this goal:
Create a Professional Website: A well-designed website is an essential tool for any business, including mediation practices. Ensure your website showcases your services, qualifications, and experience. Include testimonials from satisfied clients and make it easy for potential clients to contact you.
Utilize Social Media: Establish a presence on popular social media platforms such as Facebook, Instagram, and Twitter. Share relevant articles, news, and updates related to divorce mediation, and engage with your audience by responding to comments and answering questions.
Content Marketing: Produce high-quality, informative content that showcases your expertise and establishes you as an authority in the field of divorce mediation. Your content could come in the form of blog posts, videos, podcasts, newsletters, hosting webinars, or even publishing a book.
Local Advertising: Utilize both online and offline advertising methods to reach potential clients in your local area. This can include Google Ads, social media ads, local newspapers, radio advertisements, and community events.
Networking Strategies for Divorce Mediators
Building a strong network is crucial for the growth and success of your divorce mediation practice. Networking allows you to create valuable connections, increase your visibility, and generate referrals. Here are some effective networking strategies that can help expand your practice:
Join Professional Organizations: Become a member of mediation networks and associations, such as the National Association of Certified Mediators (NACM), the American Association of Mediators, and the Amicable Divorce Network. These groups provide many opportunities to network with other professionals in your field.
Collaborate with Related Professionals: Develop relationships with professionals in complementary fields, such as attorneys, financial advisors, therapists, and real estate agents. These connections can lead to cross-referrals and increase the likelihood of potential clients seeking your mediation services.
Attend Local Events and Workshops: Participate in local community events, seminars, and workshops related to divorce, family law, and conflict resolution. This will enable you to meet potential clients, showcase your expertise, and network with other professionals.
Leverage Online Networking: Utilize professional networking platforms like LinkedIn to connect with other professionals, join relevant groups, and participate in discussions. This will help you stay informed about industry trends, showcase your expertise, and expand your network.
Host Educational Events: Organize workshops or seminars on divorce mediation-related topics to educate the public and other professionals about the benefits of your services. This positions you as an expert in the field and can lead to new clients and referrals.
By actively engaging in these networking strategies, you can develop a robust network of connections that will contribute to the growth and success of your divorce mediation practice.
Leveraging Client Testimonials and Referrals
Positive client testimonials and referrals are powerful tools for building credibility and trust in your divorce mediation practice. They showcase your expertise, demonstrate your success in helping clients, and can significantly influence the decision-making process for potential clients.
Here are some strategies to effectively leverage client testimonials and referrals:
Request Testimonials
It is very helpful to become comfortable asking clients for referrals and incorporating this at some point during the process of working with them. For example, after successfully completing a mediation, you could ask a satisfied client if he/she would be willing to provide a written or video testimonial about their experience. Make it as easy as possible for a client to give you a testimonial - it may even be worth "bribing" them by offering a $25 Amazon gift card or something similar in exchange.
Showcase Testimonials
Once you are able to compile a good number of testimonials, display them prominently on your website, social media profiles, and marketing materials. This will provide potential clients with social proof of your skills and abilities as a divorce mediator, and it will make those who are hesitant to try divorce mediation more likely to trust you.
Create a Referral Program
Develop a referral program that incentivizes clients to refer your mediation services to their friends, family, or colleagues. Your referral incentive could be anything of value, perhaps a gift card like we discussed earlier but with a higher value, say $50 or $100.
Stay Connected with Past Clients
Maintain ongoing communication with past clients through email newsletters or social media updates. By staying in touch, you remind them of your services and increase the likelihood of them recommending you to others who are in need of divorce mediation.
Staying Updated with Industry Trends
Keeping up with industry trends and developments is essential for divorce mediators looking to build a successful practice. Staying informed allows you to adapt your services, marketing strategies, and networking efforts to better meet the needs of your clients and stay ahead of the competition.
Here are some tips for staying updated with industry trends:
Subscribe to Industry Publications: Sign up for newsletters, magazines, and online publications that focus on divorce mediation and related fields. These resources will keep you informed about the latest news, research, and best practices in the industry.
Engage in Online Forums and Discussion Groups: Participate in online communities, forums, and discussion groups dedicated to divorce mediation. These platforms allow you to engage with other professionals, share insights, and discuss current trends and challenges in the field.
Follow Industry Influencers: Identify and follow industry leaders and experts in divorce mediation. This will help you stay informed about new developments and perspectives in the industry.
Take Continuing Education Courses: Stay current with best practices and emerging trends by enrolling in relevant continuing education courses or certifications. This demonstrates your commitment to staying up-to-date in your field and can also be an attractive selling point to potential clients.
Monitor Changes in Laws and Regulations: Keep an eye on changes in family law and divorce-related regulations that may impact your practice. Staying informed about legal developments will help you provide accurate advice and adapt your services accordingly. One of the best ways to automate this process is to set up Google News alerts that will notify you of news that is relevant to your industry.
Consider Joining the Amicable Divorce Network
One of the most effective ways to expand your reach as a divorce mediator is by joining the Amicable Divorce Network. We are a community of like-minded professionals committed to helping clients navigate the divorce process in a less contentious and less costly manner. By joining our community, you can increase your visibility as a divorce mediator and help establish your authority as a local mediation professional.